Tempo Elf by Mental Tom & Wings Magic
Product image 1

Product image 2
Product image 3

Product image 4
Product image 5
Product image 6
Product image 7
Presented by Mental Tom & Wings Magic
Tempo Elf is now available at TCC Magic!
It's the tiniest remote-controlled ITR system you have ever seen. Hide it in a bottle cap or attach it to any surface, and you're all set to perform telekinesis miracles anytime, anywhere!
With worldwide free fast shipping. Shipped in 24 Hours.
Enjoy the trailer first:
Tempo Elf has extensively evaluated different versions.
After more than a year of continuous experimentation, the size of the motor has been successfully reduced to a minimum.
The entire unit now fits inside a standard bottle cap, providing a compact and portable design for discreet performances.
With Tempo Elf's single-thread motorized ITR system, you can effortlessly execute a variety of effects, including flipping book pages, moving cigarettes, manipulating and levitating small objects, rising cards, dancing scarves, and invisible touches.
Features
Adaptability for everyday use:
The miniature size and built-in magnet allow for secure attachment to any performance surface, facilitating seamless execution of single-IT effects.
Quiet motor:
Tempo Elf features a specially designed hollow cup motor for complete silence when triggered.
Covert design:
The motor remains undetectable even when hidden inside a bottle cap placed on a spectator's hand, ensuring no vibration is felt.
Ultra-compact size:
Measuring approximately 18mm * 18mm, Tempo Elf can be easily hidden in various places, including a bottle cap.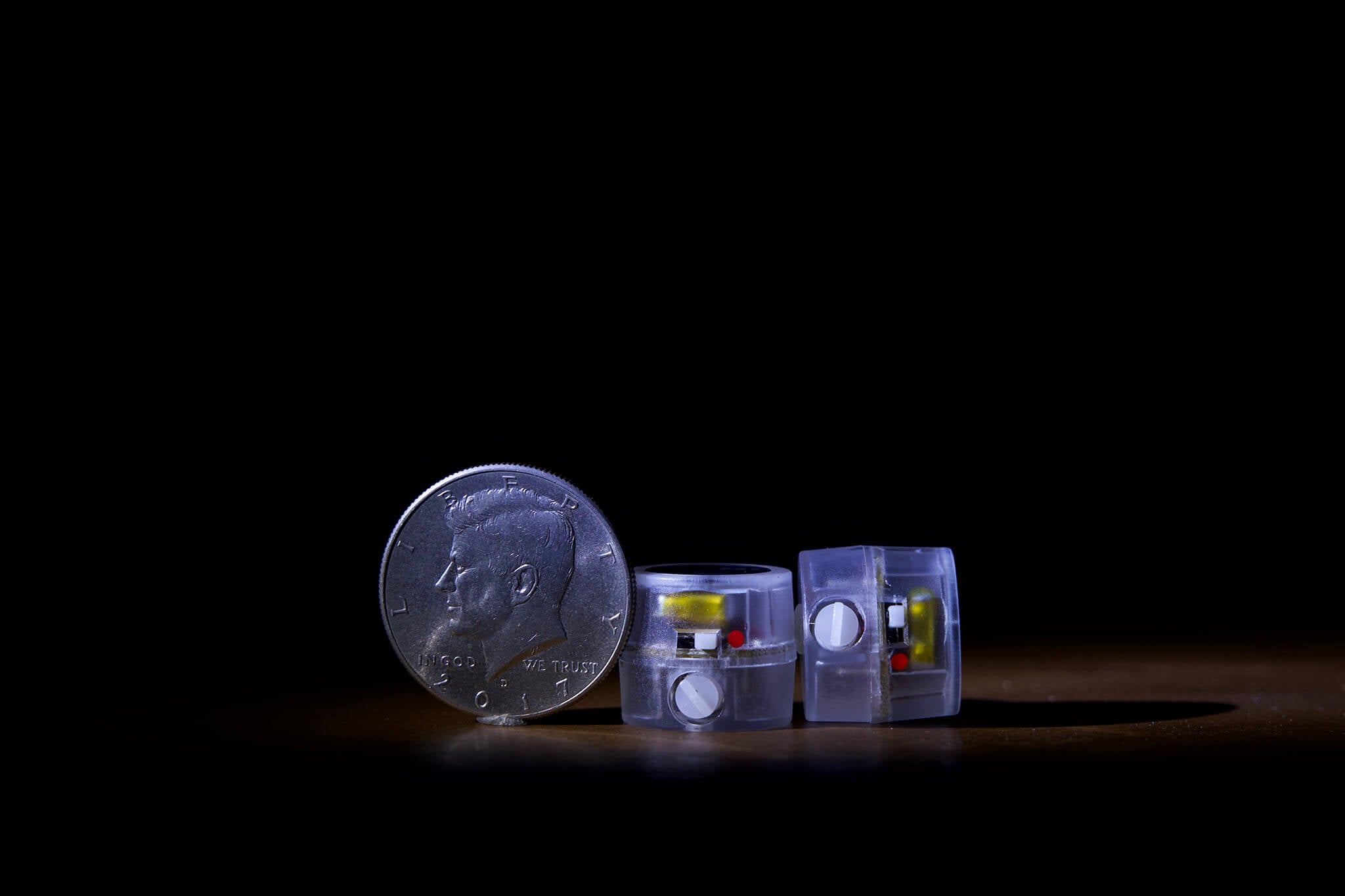 Dual Mode Trigger:
The ergonomic remote control features dual programming, offering both rhythm and power modes for motor control.
Battery Life and Convenient Charging:
Despite its small size, the built-in battery provides up to 40 minutes of standby time and up to 20 minutes of continuous remote use. A USB Type-C port allows for convenient charging before every performance.
Remote control distance up to 5 meters:
Official tests confirm a remote control distance of 3 to 5 meters.
Durable Thread Reel:
Tempo Elf's ITR has been meticulously designed to reduce the likelihood of thread breakage by 90% compared to traditional ITRs. Specially designed accessories allow for quick recovery in case of thread breakage or tangling.
With its compact size and reliable performance, the Tempo Elf offers unparalleled portability and is the ideal choice for on-the-go performances. Unleash your creative inspiration anytime, anywhere with Tempo Elf.
Includes
The Tempo Elf Prop
A Remote Control
A Charging Cable
Accessories used for

Attaching the prop and remote control
Repairing the spool
Changing the remote control battery
Can you operate it hands free, or do you need to be holding the remote control? How is the remote control hidden? Can you use your toe?

The package includes some accessories to assist you in attaching the remote control to your clothing. It allows you to trigger the remote control using different parts of your body, such as under your arm or toe.

Does it come with ideas?

Yes with several effects.

Are any routines included?

Yes there are several effects explained including the setting.

Can stage thread or stronger thread also be used and can it be triggered with a magnetic ring? Is there a delay setting? Thanks!

Sorry it only trigger with remote, and no delay mode. The thread can be replaced by youself with any invisible thread.

Is there a way to mount it on something non magnetic and can I do this it is not mounted at all? I hope that you can make a version that can have multiple that you can mount on places so you can have more control

The gimmick is small and light, you and use blue tack to stick it on anywhere.

How quick is the setup and re-set? Is it quick enough for strolling performances?

Setup is like normal thread routines. You just need to find a chance to stick the gimmick on some place.

How it is possible to refill the threat ? Could we refill the spool or is there any refill spool to buy

Hey! The spool can be taken off, and you just roll your own thread on it.