Latest Kickstarter Campaigns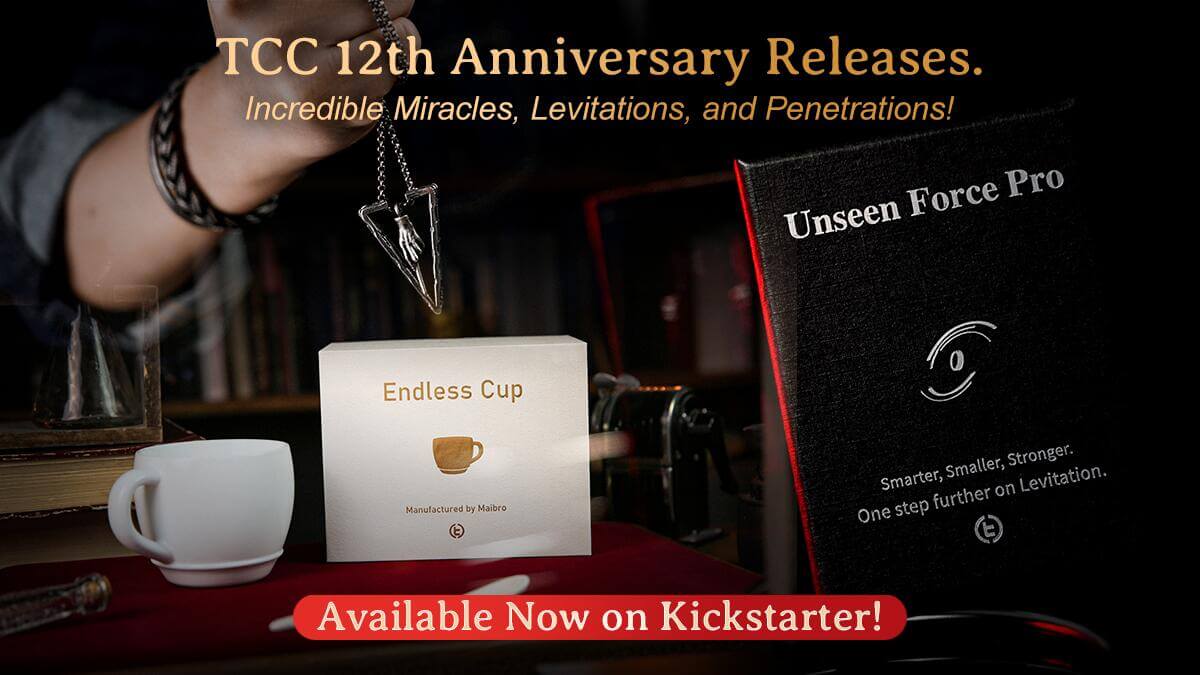 https://www.kickstarter.com/projects/magicianpresents/endless-cup-and-the-frame-and-unseen-force-pro-by-tcc-magic
Inspiration from brilliant minds in China to create an Exquisite Craft & Amazing Magic effect.
Incredible Miracles, Levitations, and Penetrations!
Kickstarter will be the only way to get them at the best prices.
Endless Cup
The Endless Cup is shaped like an everyday household ceramic cup or coffee cup. It can conceal nearly half a cup of liquid without leaking, and have it flow into the cup whenever you need it to. Both the inside and bottom of the cup can be displayed. It can be incorporated into many classic routines. Endless Water, Endless possibilities.
The Frame
Borrowed ring passes through a pendant and is secured onto the chain of the necklace. Made of 925 Sterling Silver, The Frame does not have any physical opening and closing mechanism, and does not require any pre-setup. You can perform this at will, anytime and anywhere, and immediately hand it over to the audience for examination at any time.
Unseen Force Pro
An independent system that is different from all other IT systems. The all-new way to carry and hook-up allows you to accomplish most not only other IT effects but also new innovative effects unique to Unseen Force. The audience can check your hands before, after, and even during the routine. Smarter, Smaller, and Stronger.

https://www.kickstarter.com/projects/565058636/artistic-combo-cups-and-balls-set-by-tcc
Scheduled to be shipped in January 2023.
More Elegant, More Stereoscopic, More Robust. and Chop Cup!
All-new machining technology ensures that all 3 cups look and feel exactly the same. The new manufacturing process optimizes the weight of the cup, for better tactility, feel, and balance in your hand.

Artisan 2.0 Series
Scheduled to be shipped at the first week of February 2023.
https://www.kickstarter.com/projects/1270597223/artisan-coin-new-series-by-tcc/
The Tunnel - a new presentation of the classic Coin Penetration Tube effect.
Barallel Vase - adding a holdout at the other end of the vase, allowing you to use the appearance of the coins as a final surprise.
Anything to Lighter - use the lighter to vanish any small object and have the object appear inside the lighter.
M Box Luxury Set - combining the features of the Okito and Boston boxes. More versions and accessories such as Slot M Box (the slot version of the M box), Sokito M Box (solid block) and Mini M Box (holding small coins). Comes in both Dollar and HD sizes.
The Fate Coin - Two signed coins magically merged into one in the hands of the audience! It creates an impossible object that should not exist in the world. The effect does not just happen during the moment of fusion but continues to strengthen and enhance the wonder experienced by the audience. It would impress every audience and leave a lasting impression.